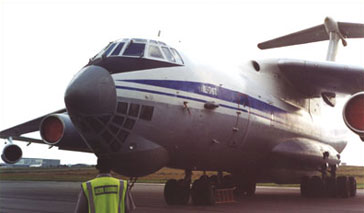 R & L Airline Agencies has vast experience in Africa, apart from our highway to Europe and the Middle East.

R & L Airline Agencies excel in transporting unusual cargo whether via full charter, part-charter or ACMI contract. We specialize in delivering at far-off remote destinations with little and under-developed facilities.

Cargo we have flown on the IL76 include:
• 'Giraffes' to Middle East
• Assorted 'wild animals' to China
• A 30 ton 'Turbine' to Ghana, 'Telecom Equipment' to the DRC, Sudan, Nigeria,
•Mining Equipment' to Tanzania, the CAR, Congo, Mali, Niger, Chad, Ghana and from
UAE to the DRC, and
• Relief goods to and from most African countries.